On a very special day today , seventy years ago four Bristol Hercules Engines in close formation attached to A Halifax of "The Why Worry Crew" of 640 Sqd.
My Dad Pilot Officer A.C. Smart DFC
Navigator                         E.W. Coulson
Wireless Operator      A.V. Walton
Bomb Aimer                   M. Broadbent
Flight Engineer             K.A. Seabourne
Mid Upper Gunner      K. Woolley
Tail Gunner                     J. Norris
They paid a visit to the coastal gun batteries at Maisy next to Omaha beach and the following night popped over to Amiens to help the troops out.
This just spurs us on even harder to get the old girls up and running again.
First job today was to fit the new "O" ring section to the crankcase center section
Plenty of grease on the front crank shaft bearing inner race, this will keep the rollers in place while we fit the front section of crank case.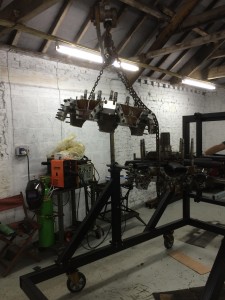 Getting the front section hoisted into place ready to lower it down onto the center section.
With two crankcase bolts fitted to the center section for guides , we gently lower down the front section.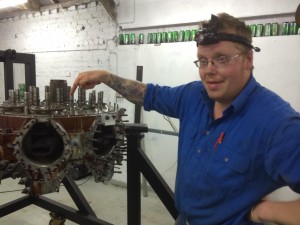 Dominic popped up from the workshop to see what we were up to and was pleased with the progress.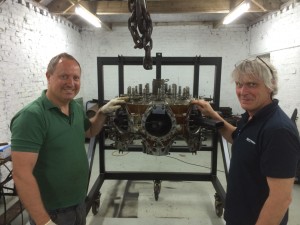 Pete and myself quite chuffed with a couple of hours work, It must be Beer O'clock!
Next job over the weekend is to refit all of the timing gears and front cover. this will allow us to turn the engine upside down and start and start putting together the rear sections.